KNTU 50th Anniversary
| | |
| --- | --- |
| Date: | Sat, Sep 14, 2019 |
| Time | 6:00 PM to 10:00 PM |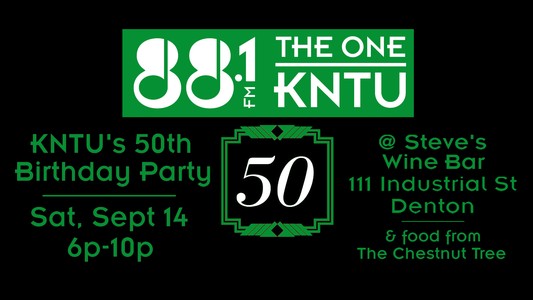 We haven't made a big deal about it on the air yet, but KNTU is celebrating 50 years of broadcasting!
What has been handed down over time is that KNTU officially began broadcasts on Oct. 31, 1969, with longtime Dallas-Fort Worth media legend Bill Mercer at the helm. The station began with a mere 440 watts of monophonic power at a slightly different place on the dial — 88.5 FM.
Over the years, thousands of UNT students have worked at KNTU with hundreds of them going on to work in both radio and television across the country.
It's time to celebrate! And for KNTU alumni to get together and reminisce (and take selfies with each other)!
We've got the place — Steve's Wine Bar, a couple blocks east of the ol' Historic Downtown Denton Square (but it'll be a cash bar situation) — and we'll provide munchies — from The Chestnut Tree — you just need to show up and help us celebrate 50 years of doin' this radio thang.
If you would, please send us an email at kntu@unt.edu if you plan to join us (we want to have enough food to feed everyone!) for the party on Saturday, Sept. 14, from 6:00 p.m. to 10:00 p.m.