Washington Wine Tasting Event
| | |
| --- | --- |
| Date: | Tue, Aug 9, 2022 |
| Time | 6:00 PM to 9:00 PM |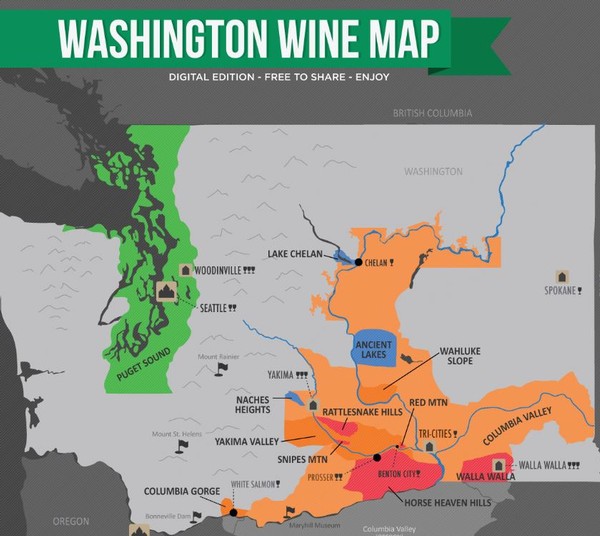 It's time (again) to taste some wine!
It's Washington Wine Month!
As you may know and heard talked about around the bar, Karen and Steve spent a week in Washington in early June. They had the opportunity to taste wines from several different wineries and we want to share some of these wonderful wines with YOU!
Their plan was to enjoy the area and learn more about what makes Washington wines so special, and in some cases, unique. And why wines from various of regions in Washington are so much more expensive than other areas. Think Napa vs the rest of California. Or even better yet, Howell Mountian vs Napa. We want to share some of that insight with you and let you experience a little bit of Washington here in Denton, Texas. We wish we could bring you some cooler temps to go along with that, but we will keep the AC cranked up to give you that Pacific Northwest feel. :-)
We will close to the general public on August 9th as we host a 3-hour tasting session that evening. We will begin at 6pm and run until 9pm. (This is a change due to low interest in the previous set up for a 4pm tasting.)
The tasting will include wines from Dusted Valley, Figgins, Goose Ridge, Hedges Family Estate, Januik, Kiona, L'Ecole 41, Novelty Hill, Revelry, and Seven Hills.
We have two options for the tasting which include our special tasting of 22 wines and a spread of food (Pizza, Pasta, Salad). For those who are interested in the VIP experience, this will include the wines and food in the special tasting, PLUS tasting five Premium wines and a charcuterie spread from 10:1 Artisan Cheese.
This will be a walk around experience where you will be able to move from one presentation table to the next, to learn about wineries and taste the wines. Tables and chairs will be removed for this event to allow people to feely move from one tasting station to the next. If you have attended our Sparkling Wine/Champagne tastings in the fall, this will be a similar set up.
The tasting room will become our VIP room where you will taste the high-end premium wines along with the 10:1 Charcuterie board. VIP Room will have seating at the couches and tables and chairs to relax at.
All the wines will be specially priced for purchase to all attending this event. For those who are unable to attend, we will make them available for a limited time to purchase online for pick up at the bar. These orders will be included when we complete our special order of these wines with our vendors.
Pricing for this special tasting is $80 a person ($65 for club members). The VIP Experience price is $130 per person ($100 for club members).
We hope you will join us for this fun tasting experience. If you have any questions, don't hesitate to email us at info@steveswinebar.com.
---
There is a limit to the number of attendees per session. So don't delay too long to grab your tickets.
Tickets for the special tasting session
Tickets for the VIP tasting session
---