Barnett Vineyards Merlot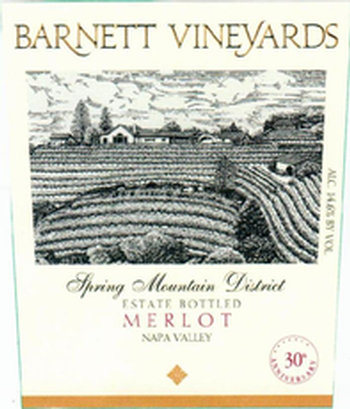 Wine Specs
Appellation
Spring Mountain
Available at Steve's Wine Bar
The 2018 Spring Mountain Merlot is a very bright and fruit driven wine. The nose is bursting with black cherries and blueberry pie as well as cinnamon toast and caramel. There is some pleasant underpinning eucalyptus and gravel minerality. As always with this wine the mouth is full and rich. The tannins are present but soft as the lush viscosity coats them. The acidity is present but softer than previous years. There is a wonderful chocolate and cherry finish. This big fruit driven wine is drinking nicely in its youth but will develop some bottle bouquet over the next 8-9 years (2028-2029).
The vineyards are located at the top of Spring Mountain, at elevation 2,000ft, and planted on steep terraces that follow the contour of the land. In some places, the grade averages in excess of 35%. Mountainside farming is very challenging. The vines must struggle to reach nutrients and water in the soil and, as a result, yield only one to two tons per acre. The elements of sun, temperature, and well-drained porous soils give an advantageous water stress to the vines and contribute to the depth, richness and character of the wines. Grapes are harvested by hand; vineyard row by row, as optimum ripeness and maturity is reached. Fermentation is done in small batches.
Since the winery's first 100 cases in 1989, Barnett Vineyards has grown to approximately 6,000 cases in total production. Rattlesnake and Spring Mountain District Cabernet Sauvignons are the focus at the estate with total Cabernet production varying between 2,000 and 3,000 cases annually. In addition, Barnett Vineyards produces limited amounts of Merlot, Pinot Noir, Chardonnay, and Sauvignon Blanc sourced from single vineyards located in well-desired appellations.
Wine Specs
Appellation
Spring Mountain
Product Reviews