Musician Tip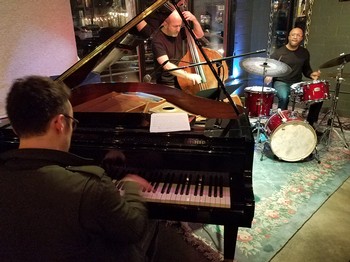 If you wish to contribute financially and support these great musicians, please use our online purchase button for Live Music.
Come and enjoy some afternoon jazz and sip on a nice glass of wine or your favorite beverage.
Thanks for helping keep live music alive!
Product Reviews
Nancy Nunez
(Apr 22, 2020 at 3:23 PM)
FABULOUS!
Karen Lioy
(Apr 22, 2020 at 3:35 PM)
Thanks for making this happen! Clapping from our living room!
Evelyn Dunn
(Apr 22, 2020 at 4:53 PM)
I had to tune in late due to a conflict, so I watched the recorded one. This was the best A/V quality on any of the online shows I have seen so far. Please do keep this up!
Judi Anderson
(Apr 22, 2020 at 6:32 PM)
Listened aftermarket from Washington state. Excellent set list, outstanding production values. Thanks to Georgeanne for the heads up on this.