Protocolo Blanco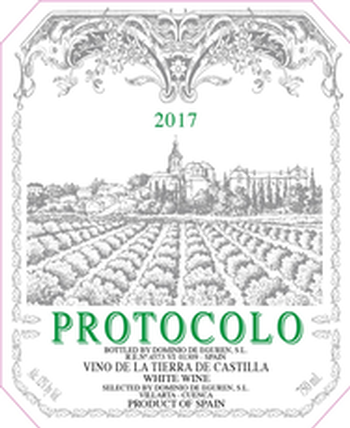 DENOMINACION DE ORIGEN: Vino de la Tierra de Castilla
LOCATION: Non denomination vineyards located in Manchuela, Spain.
VARIETAL: 60% Macabeo, 40% Airén
VINEYARDS: Multiple vineyards managed by Dominio de Eguren in Manchuela, Spain.
YEAR(S) PLANTED: Between 1946 and 1986.
VITICULTURE: Dominio de Eguren manages and controls multiple vineyards in Manchuela Spain. The Eguren family sets themselves apart compared to other Vino de la Tierra wines by selecting vineyards with advanced age and low yields, and performing a rigorous selection of the grapes.
SOILS: Poor calcareous clay soils with a high proportion of limestone. The surface is spotted with pebbles, resulting in good surface drainage.
CLIMATE: Continental climate with Mediterranean influence.
WINEMAKING: Eight-hour cold soak followed by temperature controlled fermentation in stainless steel.