December 10, 2020 | Marketing | Steve Severance
December 100 Case Challenge is On!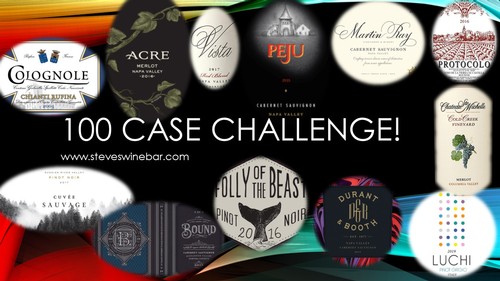 It's On!
We are ecstatic to announce our new Holiday 100 Case Challenge. We want to give you an incredible deal and sell 100 cases of wine in December. Help us achieve this goal by ordering online, or in store, and pick up here at Steve's Wine Bar.
We've heard over and over again people love what we are doing here at Steve's Wine Bar, but then tell us they continue to shop for their wine at big name retailers. We want to give you a reason to take the short drive to downtown Denton and shop with us. We have chosen 21 different wines which we are personally familiar with which will deliver immense value for you. We are discounting them at or below what you would spend at these other retail locations.
Buy two or more six packs of the same wine, or mix and match these six packs, to get the best bang for your buck!
We have worked with our distributors to put together a lineup of fantastic six-packs featuring some of the most respected names including: Peju, Chateau Ste Michelle, Trinchero, Neyers, and many more from a variety of regions around the world.
A few examples of the wines we are offering are:
Precision Wine 2018 Bound Cabernet Sauvignon (Alexander Valley,CA)

Durant and Booth 2018 Cabernet Sauvignon (Napa Valley, CA)

Peju Province 2018 Cabernet Sauvignon (Napa Valley, CA)

Trinchero 2014 BRV Cabernet Sauvignon (Napa Valley, CA)

Trinchero 2015 Mario's Reserve Cabernet Sauvignon (Napa Valley, CA)

Mount Veeder 2018 Cabernet Sauvignon (Napa Valley, CA)

Chateau Ste Michelle 2014 Cold Creek Vineyard Merlot (Horse Heaven Hills, WA)

Cuvee Sauvage 2017 Chardonnay ( Russian River Valley, CA)

Neyers 2017 Carneros Chardonnay (Carneros, CA)
This limited-time offer can net you some of the greatest names in Napa Valley for less than what you would pay at box stores, online, and other large establishments. If you desire to purchase just one 6-pack of wine, you are welcome to do so. BUT when purchasing two or more of these 6-packs, use promo code DEC30Off at checkout online for an additional $30 off each six pack!!!
Visit our website at steveswinebar.com/Our-Wines-and-Products/Specials to see all 21 wines available for you to take advantage of this month.
If you see a wine or two (or three) that you want to learn more about, we have an opportunity for you this weekend to stop by and grab a small sample of many of these wines so you can "try before you buy". Stop in this weekend, 12/11 - 12/13, Friday night between 5pm and 7pm, Saturday between 4pm and 7pm and Sunday between 4pm and 6pm to sample the wines you are most interested in.
If you are looking for another wine which we don't have in stock or in this special purchase event, let us know and we will see what we can do to get you your desired wine for a great price. These special orders will also go against our 100 Case Challenge! :-)
We hope you will be part of this fun challenge and grab some incredible wines. We are looking to you and all our customers to help us through this next round of COVID shutdowns and keep the business viable into 2021. We will continue these specials, and may add in some other wines before the end of the month. So if you have a wine you are interested in having us research for this challenge, let us know.
Thank you in advance for your participation in this special program.
All product is advance order, Order online or in the shop through Sunday, and each week orders will be placed with our vendors on Monday for delivery later that week for pick up. You will be notified by email or phone when your product arrives at Steve's.
---

In the Spirit of Giving
When stopping by this weekend, please bring some shelf stable foods to fill this box by our front door.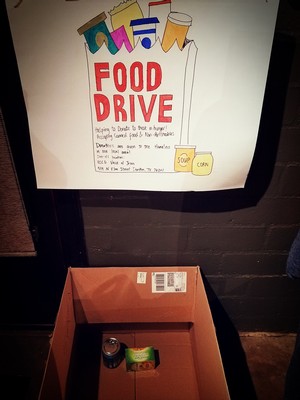 We want to remind you that we are supporting the UNT Student Roteract group with their project to feed the homeless and others in need. Please drop by this week with some shelf stable foods and let's help out this group of young adults and support their project.
---
Employee Tips: With this new shutdown, please consider posting an Employee Tip during the holidays to share with our team. steveswinebar.com/product/Employee-Tip
---
Hours
2pm-7pm Tuesday-Saturday
2pm-6pm Sunday
940-514-1852 call in number
---
Cheers!
From the Entire Steve's Wine Bar Family - Happy Holidays!