October 26, 2020 | Wine Tasting Event | Steve Severance
Virtual Wine Tasting with Lapis Luna

---
It's time for another Virtual Wine Tasting Event.
Join us Sunday November 1st at 6pm for another great tasting event.
As we head towards Halloween, we are also preparing for a special Lunar experience on the 31st. It will be a Blue Moon. It's called a Blue Moon because it'll be the second of two full moons to occur in a single calendar month. The first was on the 1st of October.
We wanted to do something special for Halloween weekend, and decided to mix it up a bit and have a special tasting with one of our favorite wineries, Lapis Luna. Lapis Luna translates to "stone" and "moon." Their labels bring to life 400 year old Copperplate engravings to depict the relationship between the earth (stone), the moon (luna), and the affect she has on us. On their label, the heroes are depicted striving to connect with the moon and looking to it for inspiration, just as they do when creating their wines.
We have picked five of their wines to choose from and enjoy over the Halloween weekend. And if you desire, join us on Sunday evening at 6pm for a 90-minute tasting event with the owners of Lapis Luna.
As in previous Zoom Virtual Tasting Events, simply purchase two bottles from the featured wines, and you will receive an email with the Zoom link to join the session on November 1st at 6pm.
---
Choose from these 5 pre-selected wines: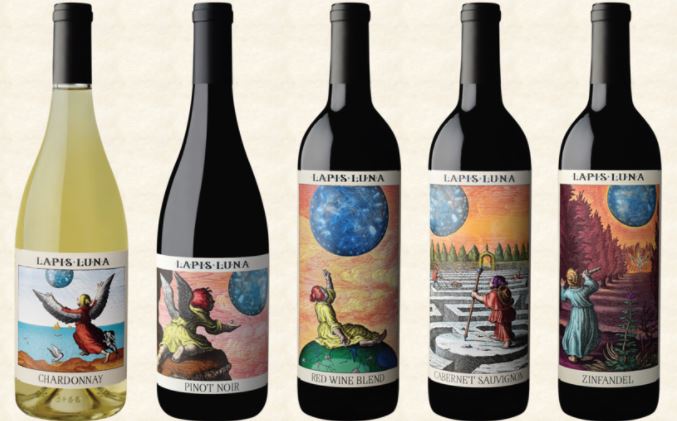 Orange zest, ripe pineapple, toast and vanilla on the nose. Full-bodied, fresh and lively, with lush white peach and ripe apple flavors leading to a savory buttered finish.
Ripe red cherries, boysenberries, purple flowers and nice spices. The palate is juicy, smooth, polished and delicious.
Layers and layers of crushed blackberries underlined with spice: purple flowers, ripe red fruits, dark and brooding, faint cloves and sage. Juicy and round with lush, supportive tannins, the finish lingers long into a promising future.
Medium body Cabernet Sauvignon with bold fruit flavors and smooth, structured tannins. It has aromas of, cassis berries, plum, slight blueberry, vanilla, oak and chocolate. It is a fruit forward wine with lush flavors, nice balance and a long, silky finish.
Rich, dark and enticing. Flavors of lush blueberry, plumbs, and blackberry cobbler. Finish is smooth, long, and juicy.
---
All these wines are specially priced through this week for this tasting event. Purchase two, or all five of the wines, and plan to join us at 6pm on Sunday November 1st for an interactive session with the owners, and brothers, Evan and Andrew Nelson.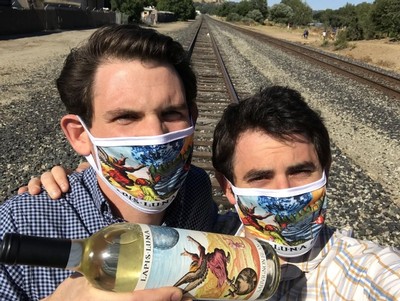 Established in 1999, Lapis Luna produces exceptional value wines from undiscovered California vineyards. Each label is a rendition of a 400 year old copperplate engraving showing a faceless hero reaching for the moon.
"We are dedicated to producing wines that over-deliver in quality and price point. Since 1999, we have grown long term relationships with established growers throughout Lodi and the North Coast. Our wines deliver fresh and vibrant fruit balanced with lively acidity and good structure, creating true-to-varietal expressions that can be enjoyed every night of the week."
---
You may purchase your wines online or stop by the bar and place your orders in person. We will have the wine shipped to the bar on Thursday the 29th for pick up that evening or over the weekend prior to the 6pm Zoom Session on Sunday, November 1st.
And yes, for those of you who are thinking, "the Cowboys play at 7:30". We will wrap up in time for you to turn your attention to the game.
So join us for another fun wine tasting and grab some tasty wines for the upcoming Halloween Weekend.