October 17, 2022 | Marketing, Wine Tasting Event | Steve Severance
Wines for your Halloween and Day of the Dead Festivities
It is hard to believe we are just a couple of weeks away from the Denton Day of the Dead Festival and Halloween. Are you planning to host a party, or go out and enjoy the festivities with friends? If so, we have some fun wines for you to order and show your "holiday spirit"!
We are ordering a few cases of wine from the Paso Robles Winery, Chronic Cellars. There is a limited amount of product here in Texas and we want to give you a chance to grab a few bottles that are ideal for your spooky experiences.
Go online to check out our specials on six different wines. They are all very tasty Paso Robles wines and are super friendly to the pallet and the eye.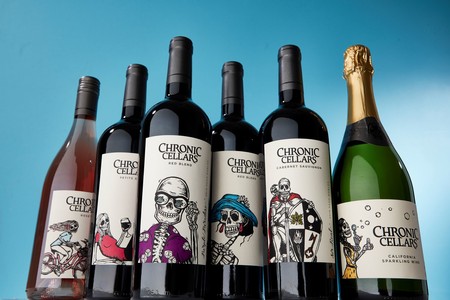 The labels are all ideal for the Halloween and Day of the Dead festivities. And bonus, the juice in the bottle is pretty tasty too!
2015 Dead Nuts Zin Blend
2020 Pink Pedals Rose
2020 Purple Paradise Zin Blend
2020 Sir Real Cabernet
2019 Sofa King Bueno Syrah Blend
Spritz and Giggles Sprakling Wine
2020 Suite Petite Sirah
As an incentive to jump online today and purchase some wine, we are pricing them at a very low price. And each day they will increase in price by $1 until the 27th. Order online ASAP and pick up the wine at Steve's Wine Bar October 27. We will be doing a pick up party and special tasting with the wines that evening (10/27) 6-8pm while Twilight Tunes is happening in the park across the street from our place. You can come in and pick up your wine anytime after 2pm that day or over the weekend to be ready for your parties that weekend and Halloween night. We will also be selling the wine by the glass and bottle that evening for Twilight Tunes and over the weekend for Day of the Dead October 28 - 30th while supplies last.
Order your wines today at Our-Wines-and-Products/Specials
Again, each day our price will go up by $1 on each bottle until the 27th, so get in early to get the best pricing.
There is limited availability in Texas, so take advantage of this opportunity today!