March 6, 2021 | Wine Tasting Event | Steve Severance
Virtual Tasting with Sean Minor - Saturday March 13th, 7pm

March 13th, 7pm
Join us for a fun evening tasting four fantastic wines with owner and wine maker Sean Minor. Along with Sean, his wife Nicole will be joining us from her kitchen while she cooks up something fun to taste along with our wines. We have chosen 4 to taste from their collection of wines from the North Coast of California.
Sean Minor Sauv Blanc 4B Series - Vibrant and juicy, our Sauvignon Blanc has light, refreshing flavors of kiwi, green apple, pink grapefruit and peach. An Ideal aperitif or summer sipper.
Sean Minor Pinot Noir Signature Series - Just like a little black dress, Pinot Noir is a classic choice for any occasion and goes with almost everything. Alluring aromas of wild plums and cloves mingle with flavors of vivid red cherries, spices, earthy notes and vanilla.
Sean Minor Nicole Marie Red Blend - Graceful flavors of warm blueberry pie and dark cherry compote mingle with hints of vanilla and cassis. Silky smooth tannins round out this refined, balanced wine. 51% Merlot - 25% Zinfandel - 24% Petite Sirah
Sean Minor Cabernet Signature Series - Sophisticated and refined, Cabernet is always a dinner party favorite. Indulge in a rich bouquet of ripe raspberries, blackberry pie, oak and savory spices. Delicate, soft tannins provide structure and linger elegantly.
Tasting of all 4 wines - Take home a tasting of each of these great wines in our 2 ounce to-go cups.
To join the Zoom call with Sean and Nicole, simply purchase two or more of these tasty wines and/or pick up two or more tastings to-go. We are pre-selling the wine this week (March 6) for pick up on Friday March 12 or Saturday March 13. After you have placed your order, you will receive an invitation to join the Virtual Tasting via email.
If you are interested in putting together the special dish Nicole will be making during the tasting, simply click on the recipe link and prepare to enjoy some tasty treats with your wine. Recipe for Sausage Crostini with Rosemary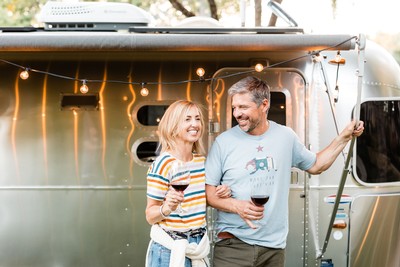 Not long after we met, we quickly bonded over our love of wine. That was 31 years ago, and not much has changed. We like to enjoy wine in our everyday lives - with dinner, catching up with friends and family, and celebrating life's most special events. In fact, we believe there are few moments in life that aren't paired perfectly with a great bottle of wine.
After we married and Sean had spent a number of years in the wine industry, we noticed that there was a gap in the market. We were yearning for wines that were easy to enjoy, highlighted the amazing fruit of California, and didn't break the bank—so we made them.
Initially, our brand was called Four Bears and we love sharing the story behind the name. We have four children - three sons and a daughter. Early on, we would convene at the kitchen table to taste various lots of wine, play around with potential blends and talk about what we liked and didn't like. At one point, our 4-year-old likened this practice to the idea that we were like Goldilocks searching for just the right bottle.
We began by producing wines from premier appellations throughout California, sourced from vineyard sites strategically located near the cool, marine influences of the sun-filled California coast. With the help of a family friend and colleague, Will Bucklin, our initial production featured a Napa Valley Cabernet Sauvignon, Central Coast Chardonnay, and Dry Creek Sauvignon Blanc.
Fast forward to today - our children have grown up, our business has evolved and our name has changed (we now go by Sean Minor Wines) but our dedication to producing quality wines at an approachable price has remained. Since we don't own vineyards, we work diligently with sustainable, experienced farms throughout California and Oregon. We've developed strong relationships with some of the best growers in the industry so that we can contract the finest fruit. Today, you can find our wines at restaurants and gourmet grocery stores in 49 states and, of course, here on our website. Our family and team have grown, and we can't wait to see what the future holds.